Quick overview on how the skating music process works:
Request music from Dave



Skater Info. Program Time. ( & Level.)

Skater – If there is something about the skater you want to mention – a few examples:
skater has great endurance and can handle keeping high energy for the entire program

skater tends to get tired toward the end
skater is powerful – or skater is very smooth and consistent in speed on the ice

skater has a fun + bouncy personality and we'd like to that to come out with the music

Music time – Go ahead, be very specific. If you want the skating music to be 1:38 seconds, Dave will usually hit your mark (within a second or occasionally two seconds) and not go over the time you specify.
Level – this provides a guide so Dave can envision what your skating music will sound like.

Be sure to let me know of any deadline or time table you are working with.

Dave will confirm back to you that your request was recieved. If you are new to working with Dave, please call first to introduce yourself - thanks!

Provide music title and artist.



If using more than one song, let me know those. For lower to mid level skaters, it is typical to use one song – especially when the skating music is 2 minutes or less. For mid level skaters two songs or more is typical. And, for upper level skaters, you would be amazed at how wide the variations for music selections can be. The goal is always to make the skating music flow smoothly, no matter how creative we get with the musical selections.
If there is a specific version of a song you would like, email or text the link to the song (i.e. YouTube video, iTunes, Amazon, etc.). If you would like to provide a high resolution file of the music or CD or even LP, that is great, too. I have access to tons of music, so it's best to let me know the song first before going through the effort of sending a music file or coordinating a specific CD.
Since I know skating music exceptionally well (having been a skater myself for many years), there are traditional approaches we can take, for example, fast-slow-fast, or slow-build into fast with dynamic end. I always do buttoned up endings unless you specifically want something unusual. Let me know your intentions and I will use that as the guide.
You do not need to have specific cuts laid out for me in order to get you great skating music. Make your life as a coach, skater, parent, or choreographer easier by relying on my decades of experience in this field. You can provide as much direction as you like. After working with me one or two times, most coaches just let me know the music and I'll turn around exceptionally high quality skating music to them that typically exceeds their expectations – often hitting the mark on the first version for review. In a rare case that mark is missed on the first pass or something sounds different than what you envisioned, just say so and I can make adjustments to fit your vision. I aim to please!
If you have specific cuts in mind, by all means, go ahead and provide those specifics to me... or if you have general ideas, certainly provide those to me.

For example, "we like the first 60 seconds of the music up to for the slow section". Or "use 1:12 to 1:42, then blend with 2:25 to 2:35, and finish with 3:43-4:12, tighten up the long hold at the end so it does not drag and use only 3 big crashes for the ending notes", etc.

I work from the premise that you the coach or the skater already own a copy of the song(s) you intend to skate to (i.e. CD, iTunes, Amazon, etc.). My role is solely to assist you in compiling an edit for the skater's use. If this premise is not accurate, please advise and I can purchase the song download on the skater's behalf and pass that nominal actual cost for the song(s) download via the invoice.
Reviewing the skating program.



Once I complete the music editing, I provide to you a private weblink – this weblink is for you and only you, it is not for distributing to friends, colleagues, or anyone else – it is yours. The link is to a simple webpage that has a high resolution MP3 link on it that you can play directly from your computer, phone, tablet device, etc. in order to review. From there you can download the song from that link. I try to avoid sending emails with songs in them because music files tend to be very large attachments and many email systems do not like large attachments. Also, this way we can avoid mix-ups of versions of skating music that is provided to you. A version is indicated in the filename of every version of skating music file name provided to you, clearly labeled for you to see when selecting to play the skating music via the weblink provided to you.
Skating program approved.
Once you and the skater approve the music, we can go a couple different methods. If you are a coach, I can provide a unique private weblink specific to the skater. I like to do this because we can leave a copy of the music available to you and the skater in case something happens with their CD, etc.
CD's
For coaches and skaters who require CD's. I can easily provide this service. When CD's are requested, I usually provide 3 CD's for the skater. Based on your location and time table, I may be able to have CD's brought to a handful of rinks in my travel pattern. For coaches that want to burn CD's, I can provide the highest quality file format (a .wav file that is identical to theresolution of the CD format) for download in order to create CD's on yours/skaters end. Alternatively, I can provide for nominal fee labeled CD's via US mail. With the electronic files via the private weblink, most skaters and many coaches are able to utilize that aspect for their purposes. It all depends on your needs.

Note – if a coach is electing to have me cut several programs at one time, if time permits, I may include a Coach/Choreographer CD that contains the current batch of several skating programs completed at that general time period. This is a courtesy for convenience and is based on time table plus needs of coach.
Invoice



Skater/Parent or Coach is welcome to pay the invoice for the skating program. Payments of invoices are usually made via check sent to my business/studio (33 FM Media LLC). Location to send payment is clearly indicated on all invoices. I can accept other forms of payment (credit card, cash), please inquire first regarding these alternative payment methods.

Invoices are typically provided to parents via the coach by forwarding the email I send to you the coach once the skating music is complete. I am able to email the parent directly if you the coach elect – that is your call – just forward their email address to me once skating program is approved.

I ask that the recipient of the email with invoice always immediately confirm they received the invoice attachment via email. I have relied on the honor system for years (invoicing for payment after completing the skating music) – most of the time it works great – while sometimes people forget about invoices, only after a fair period of time will I initiate a gentle reminder to the coach (rarely ever have had to send an email to the parent) but I never will make a collection call to parents. I do have a no strike policy – no payment by parent, no music in the future for them. Coaches I work with are mindful about ensuring their skaters/parents follow-up on skating music invoices, so, things usually flow naturally. I am mindful about the nature of skater/parent to coach relationship and am usually an invisible part of the process.

Invoices are to be paid promptly. No one involved wants to chase down invoices weeks or months later, so please ensure parents get the invoices promptly for the skating programs I provide.
Back-ups of skating programs



Remember, the link is a private weblink and as long as you and the skater are not giving it out, no one else knows it's there. It is a great way to have a safety copy of the music available. Skaters should always keep an electronic download of their music in addition to any CD's they may have. I do keep backups of the edits I make for a set period of time, usually 60 to 90 days. While I do archive many studio files going back months or years, once a skating program is approved as complete, the 60-90 day time period for recall is usually ample back-up for us all.
Once you have opportunity to work with me for your ice skating music needs, I believe you will find the process easy. I like to keep the course of creating skating programs fun and efficient for all of us. I welcome your input at any point in the process.
Thank you for reading.
Dave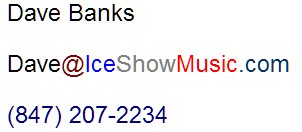 © 2017 33FM Media LLC


Disclaimer: The process for creating skating music is a creative one and therefore by definition the results of services performed are subjective. There is no one single standard approach to creating "skating music". This brief process overview is intended to be a supplement to in-person conversations, meetings, phone calls, or ongoing communications with Dave Banks, a managing member of 33FM Media LLC and the parent entity, Verimind LLC. Duration of skating program times and any corresponding associated skating level for the use of the music edited by Dave/33FM Media LLC is the sole responsibility of the client / skater / skater's guardian using the skating music program. Dave and 33FM Media LLC are not responsible for providing rules, times, or instructions pertaining to any skating organization nor responsible for suitability for any music that you request to be edited. Skaters / Coaches / Parents / Person requesting skating music that may or may not be used for skating competitions have the responsibility to know the guidelines for use of the music & audio they are intending to be edited into "skating music". The person requesting music editing services is understood to be knowledgable about their goals for the use of the skating music and therefore, when they approve the final version of the "skating music" they have waived 33FM Media LLC and David Banks of any responsibility or liability for the application or suitability for the "skating music" for any purpose. A request or inquiry for skating music does not imply any specific guarantee for delivery of product and requests must be confirmed before any work begins to edit or create "skating music". Any time tables are to be considered a guideline of time it may take to complete edited skating music. The process of creating skating music may be iterative and there can be slight variations or changes from version to version and should be reviewed in full by the person(s) requesting the skating music. Any work product delivery to the requestor is done so in good faith with the full expectation for work product to be paid for in a timely manner by the recieving party of the skating music. Pricing for skating music can vary based on the time involved for creating the final editied skating music work product. The services performed to create skating music are not free. Pricing guidelines discussed prior to performing work on skating music are solely guidelines to be used as a general range for cost & budgeting expectations for invoice that the requesting party will receive when the skating music has been approved and delivered electronically to them. Please contact Dave/33FM Media LLC for additional information about any questions you may have about the process for obtaining "skating music". We are happy to discuss the sport of ice skating with you, but you should rely on your coach and industry professionals related to your skating performance. We will do our best to help give you insight based on our experience and make the process for getting great "skating music" smooth and efficient. This page of information may is updated from time to time.
Thank you..

r1a